Sardinia in autumn, weather and things to visit in September and October
To me, autumn and spring have always been the best seasons to visit Sardinia.
They are carachterized by very good weather (not all years if i have to be honest), beaches are not crowded and you can find FANTASTIC EVENTS on calendar, such as Autumn in Barbagia.
READY TO SPENT THE BEST HOLIDAY OF YOU LIFE?
SO, READ MY TIPS:)
Autumn in Sardinia is a good season to swimm?

Summer is already ended? Are you dreaming an island and of you, liying on a beach?
Autumn in Sardinia is A VERY GOOD CHOISE to live summer emotions …
The most beautiful beaches are not crowded and seems little paradises.
Moreover, you can visit archaelogical sites without standing in line (have a look to HOW NICE IS Tharros ancient city, in Oristano).
In september and october you have a lot of things to do in Sardinia:
HIKING, CANYONING, SWIMMING AND CLIMBING for example.
In a previous post i talked ABOUT my trekking experience at Canyon Gorropu, and guess that?
WAS SEPTEMBER!

Autumn is the best season for OUTDOOR SPORTS beacuse climate is mild or, i can say, is the perfect climate for outdoor sports!
Sardinia weather in September and October
-Dreaming

Summertime!-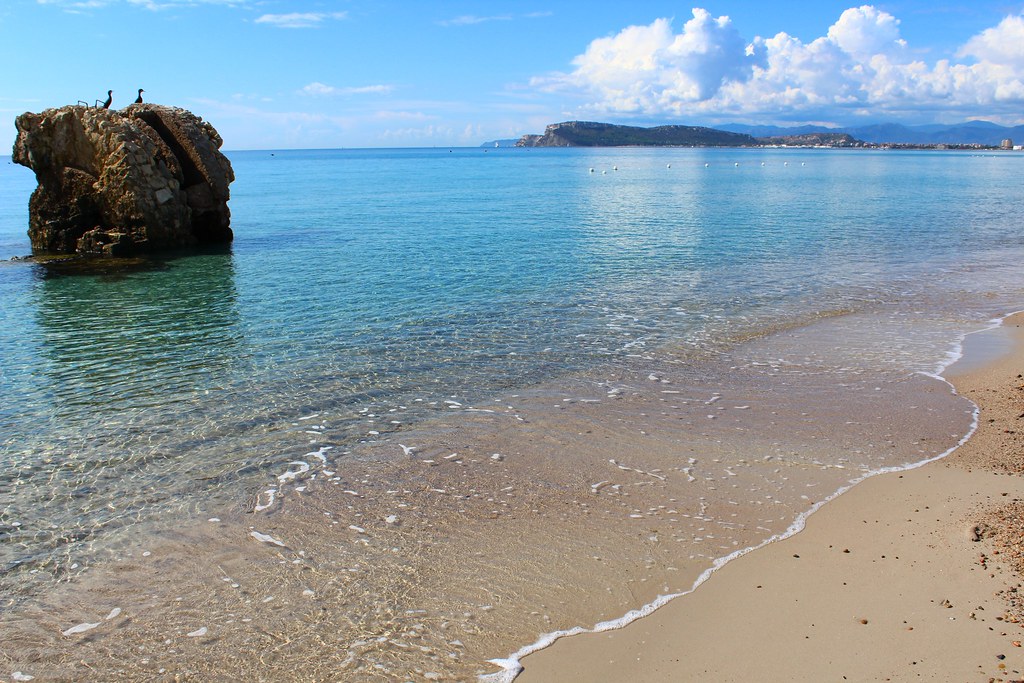 How is the weather like in Sardinia in autumn?
September and October months can be different in this sense.
First of all, on the coasts, IN SEPTEMBER we find a tipical summer climate: temperatures till 30 degrees and sunny days, sometimes windy.
IN OCTOBER, close to autumn season, temperatures drops to 25/26 degrees but is a good weather to go to the beach and swimm.
If you visit the hinterland consider 3/4 degrees less, ideal aniway for outdoor sports.
In September and October I ALWAYS CAMP, my favourite at all!
Read my post about the best campsites on the beach in Sardinia!
For more infos about WEATHER IN SARDINIA consult BBC Weather
Best itineraries in Sardinia for autumn holidays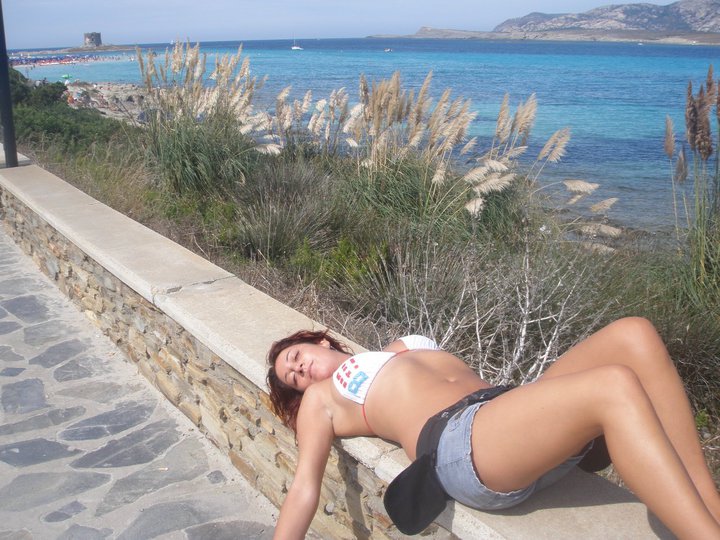 We talked about good weather, that's way potentially, every destination you choose in Sardinia will be good.
Cagliari, Alghero, Olbia, Oristano, Sassari, Orosei: wherever you will go you will find beautiful beaches, musems and archaeological sites to visit.
HERE'S MY SUGGESTED ITINERARIES:
Olbia – Costa Smeralda – Palau -Santa Teresa di Gallura;
Posada old town – Siniscola – Berchida and

Bidderosa

beaches – Orosei Gulf;
Orosei Gulf -Cala Gonone – Gorropu Canyon -Baunei – Santa Maria Navarrese – Lotzorai;
Cagliari -Costa Rei;
Iglesias Coast  and Oristano;
Bosa – Alghero – Stintino;
Castelsardo -Valledoria -Badesi – Vignola
THERE ARE A LOT OF THINGS TO SEE ALSO IN THE HINTERLAND!

The best season to discover the beauties of hinternal area is autumn, AND in this season you can't miss Autunno in Barbagia Festival …
What to do in autumn in Sardinia: AUTUNNO IN BARBAGIA FESTIVAL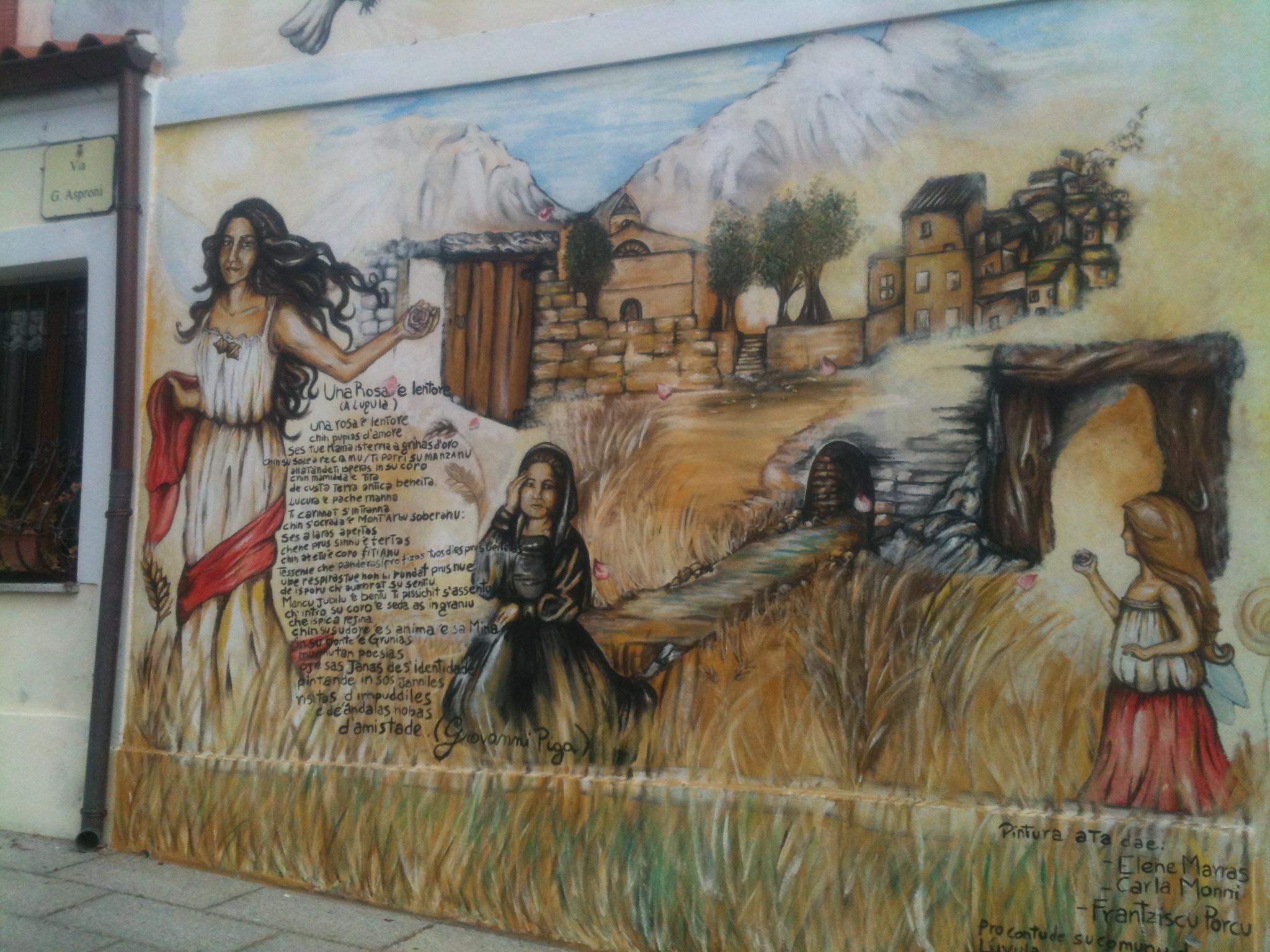 Did you ever heard about Autunno in Barbagia?
Is among the unmissimble things to visit in Sardinia in autumn!
I took this picture in Lula, one of the ancient towns of Sardinia involved in Autunno in Barbagia Festival.
Wonderful murales, don't you think? But Autunno in Barbagia is not (or not all) about murales), is THE MOST IMPORTANT FOLK FESTIVAL OF the island.
It starts on september and ends on december: is an itineray throught sardinian old cities, food tasting, hartisanship and culture.
HERE'S AUTUNNO IN BARBAGIA CALENDAR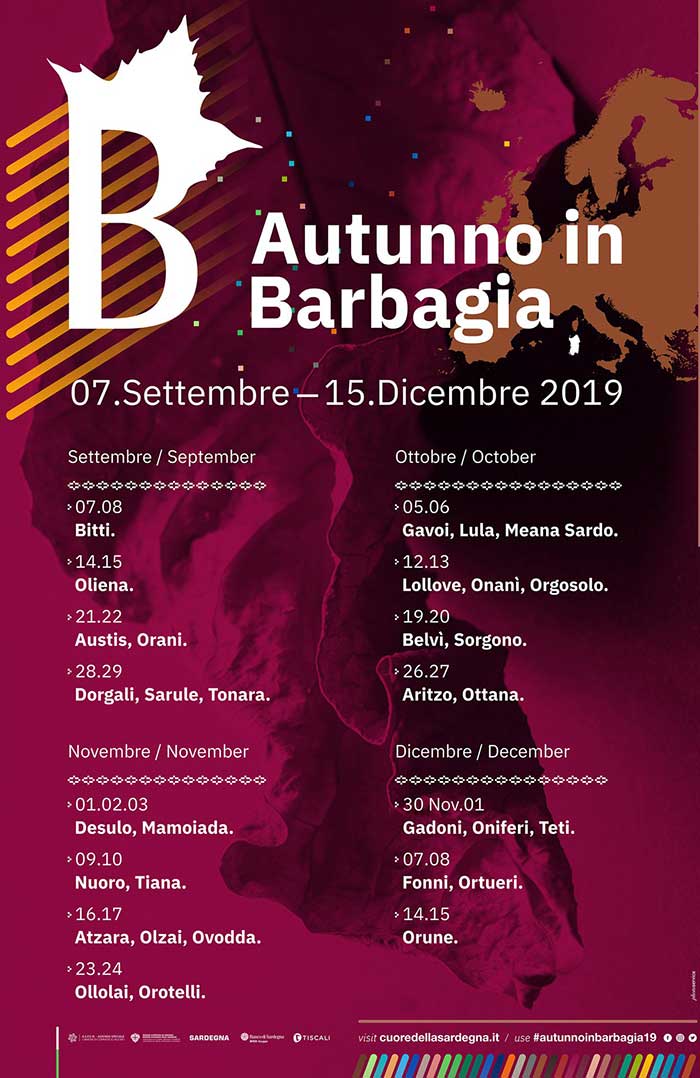 Autunno in Barbagia Festival
sandalia racconta contacts
If you need more infos about your holiday in Sardinia WRITE ME
Are you looking for a place to sleep? Have a look to my PORTOBELLO BED&BREAKFAST