La Maddalena private boat tour with skipper: THE BEST complete & funny
Not all La Maddalena private boat tour with skipper are the same. To us, the best, complete & funny is with Emerald Cruises and captain Daniele. Let's see way:)
You know the wonderful images of sardinian sea circulating on the web? They are not retouched pictures: they represents exactly the colours, the shades and the breathtaking landscapes you see once arrived on the island.
And what about visiting the most beautiful beaches and islands of North Sardinia in half a day or in one whole day?
Starting from Palau, La Maddalena or Costa Smeralda with Emerald Cruises, on "Freedom" board, you have the chance to enjoy a private excursion with your family or friends: an experience you will remember for life.
La Maddalena private boat tour with skipper: which is THE BEST?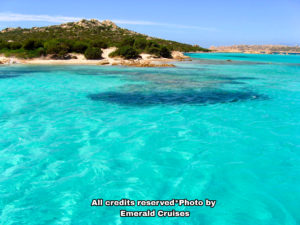 La Maddalena private boat tour with skipper is an unmissable experience to live in Sardinia.
A dip in the turquoise sea of Sardinia. A walk in its shallow and clear waters, in the most beautiful natural pools of the world.
And then, for extra fun after snorkeling, a taste of local culinary specilities, may be at sunset, when the sun fall asleep on the sea giving unique scenaries and emotions.
Or a music party on board. Why not?
This and much more you can enjoy with a private guided tour at La Maddalena Island and islands, Palau and Costa Smeralda. Then, if Daniele A.D.S. of Emerald Cruises is your skipper, the "WOW" effect is guaranteed.
He has always loved the sea, since he was a child, and it's ready to make you discover North sardinian sea with a special, funny and completely personalized half a day or one whole day boat tour with your friends, family or sweetheart.
He borned in Rome, but comes from a sardinian family.
The calling of the sea runs in his veins. He studied to become boat captain and now, finally, he realized his dreams. Daniele, owner of Emerald Cruises, organizes private cruises in North Sardinia with "Freedom".
Hi! I am (*your) "Freedom", Welcome on board!
La Maddalena boat tour with Emerald Cruises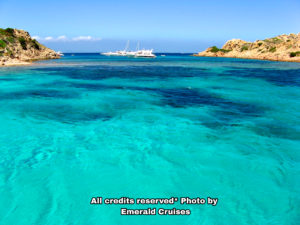 Daniele choosed a very good name for his boat. "Freedom" is the felling that all sea lovers have in their hearts.
Is the felling of Emerald Cruises for Sardinia it self made of colours, waves and scents of a wild island.
The same fellings that captain Daniele wants to convey to all people who wish to discover the beauties of La Maddalena Park, Caprera and other island, Palau and Smeralda coasts.
Fredoom is also the feeling you will get during a boat excursion characterized by high profiles of personalization, comfort and privacy.
"Freedom" is a a large sized RIB (Rigid Inflatable Boat) comprising a cabin, bathroom, a large sunning area with comfortable cushions at both ends and with an ample sunshade.
The boat is equipped with all comforts you need, such as a bar service with ice; Spotify music; soft beach towels; snorkeling masks and more.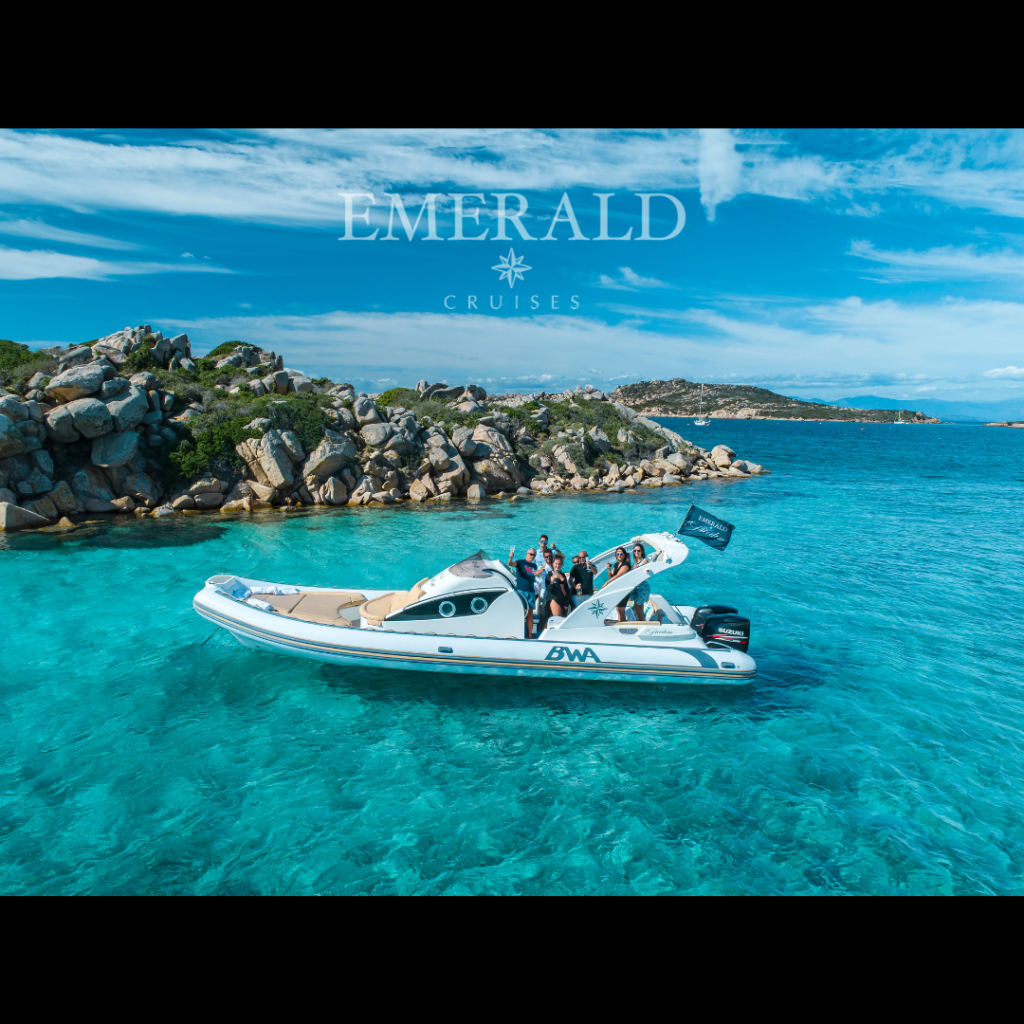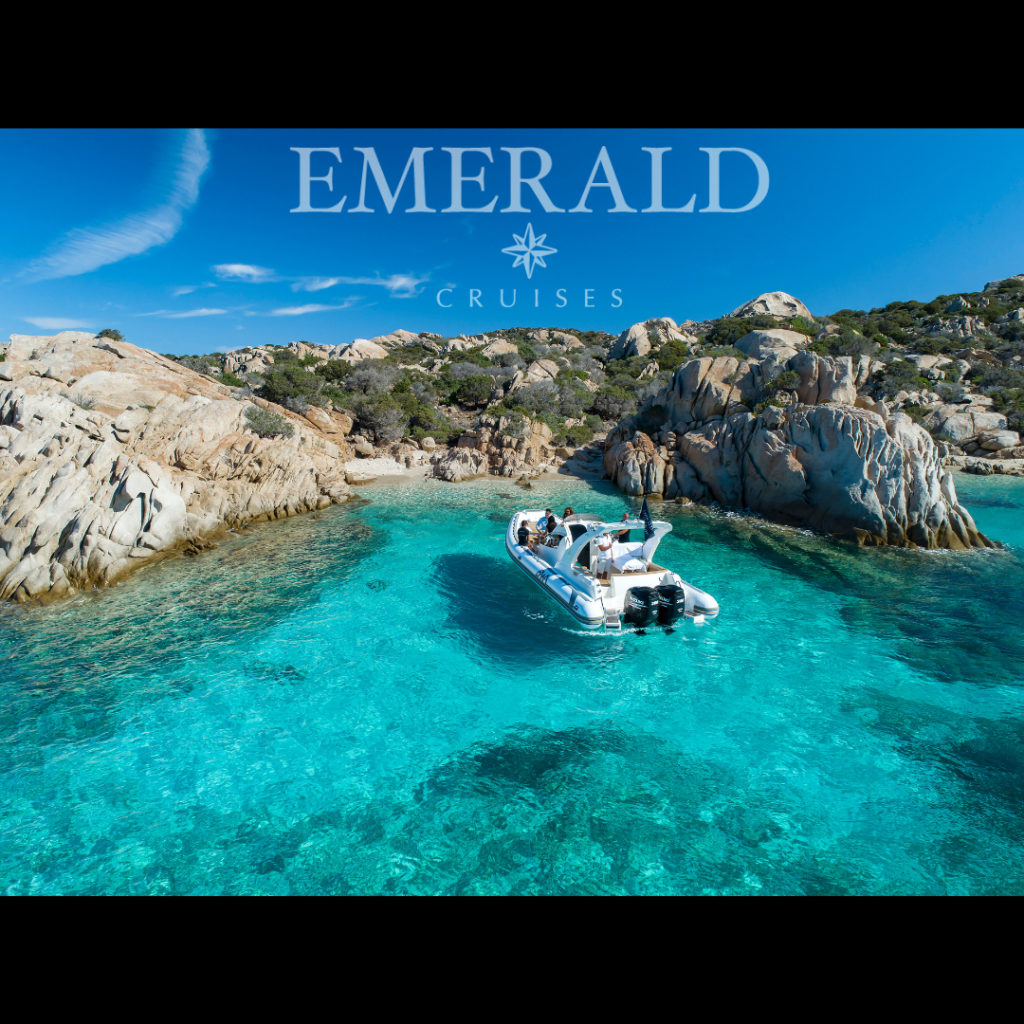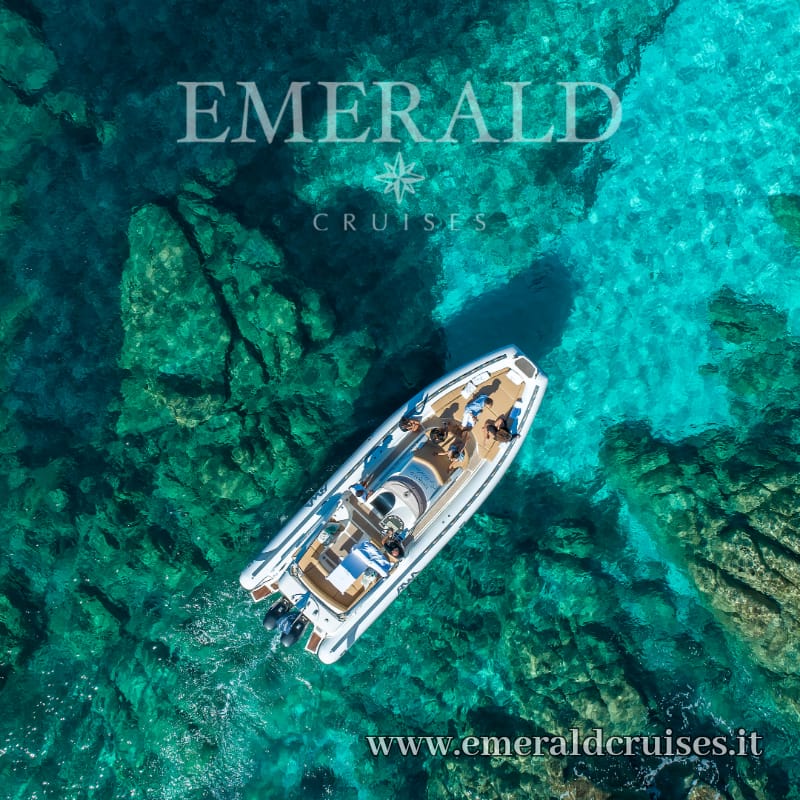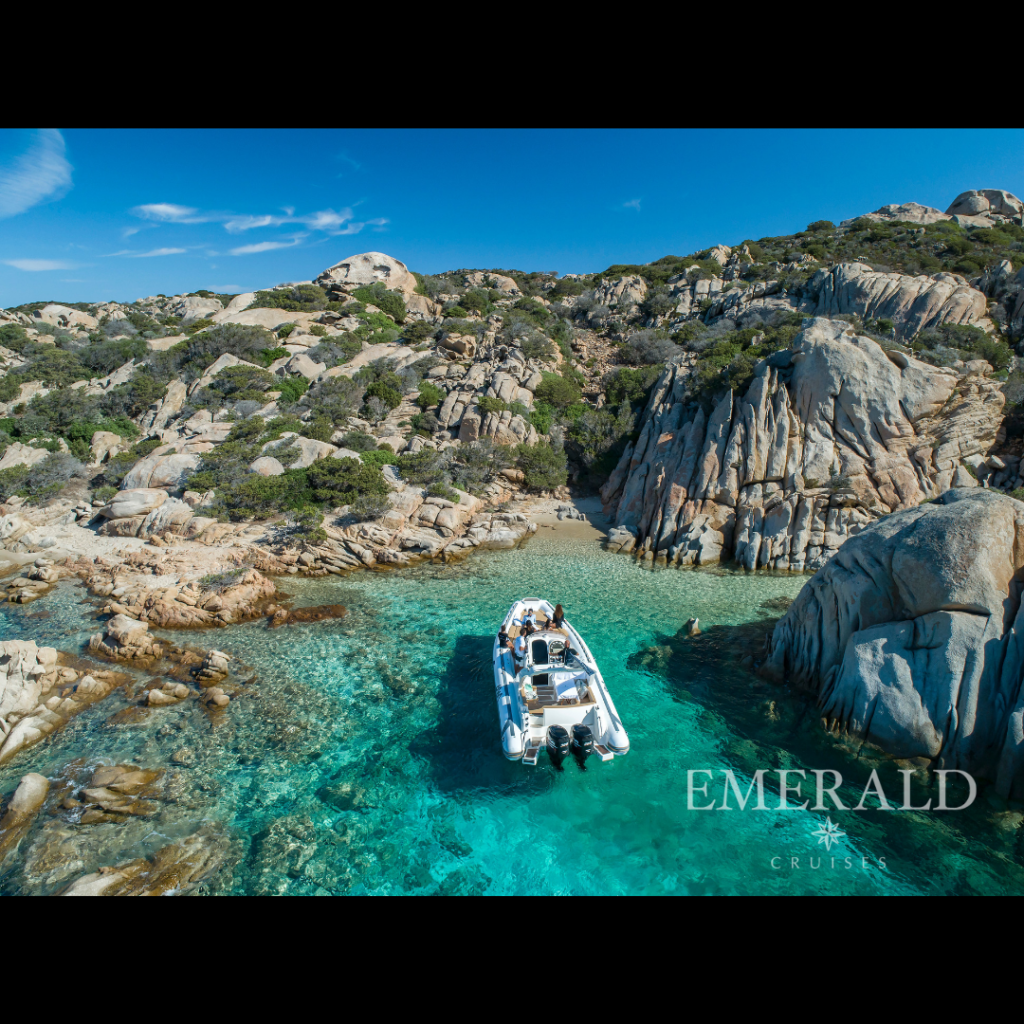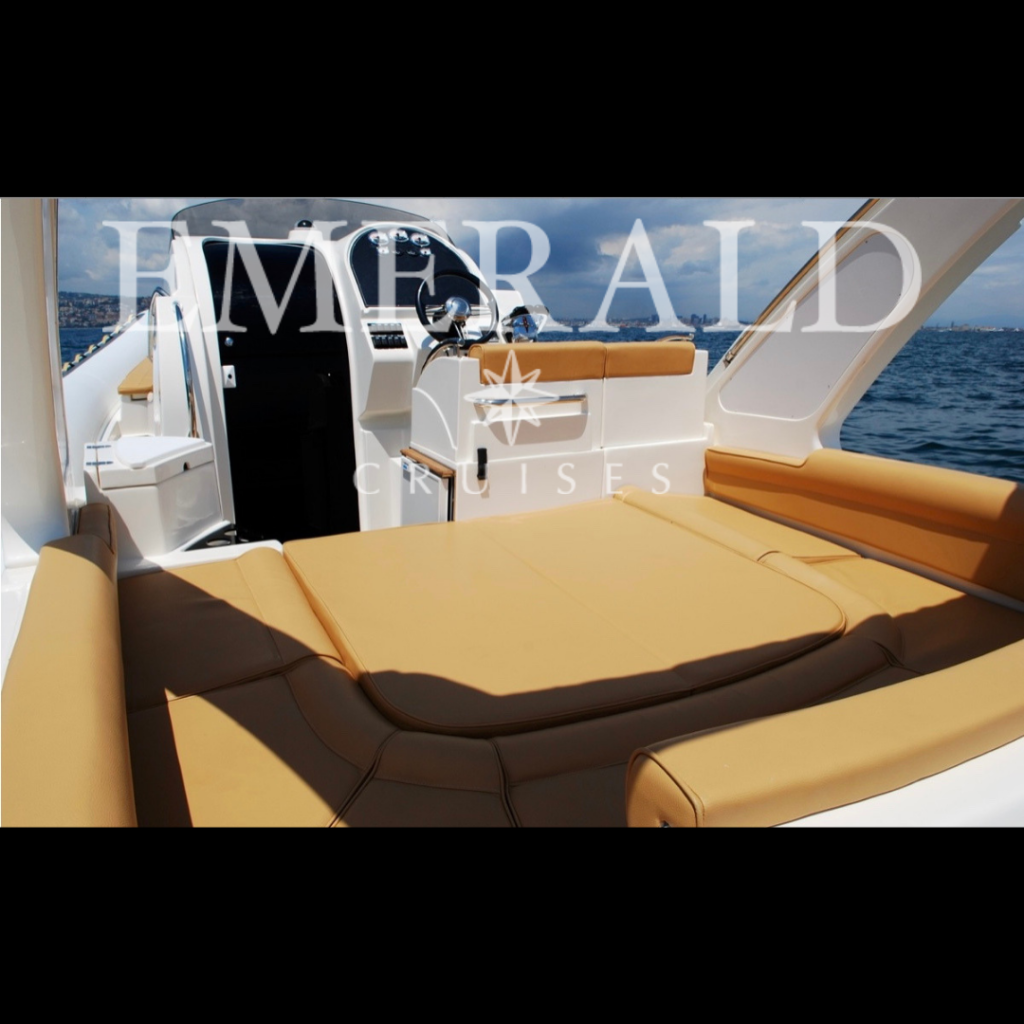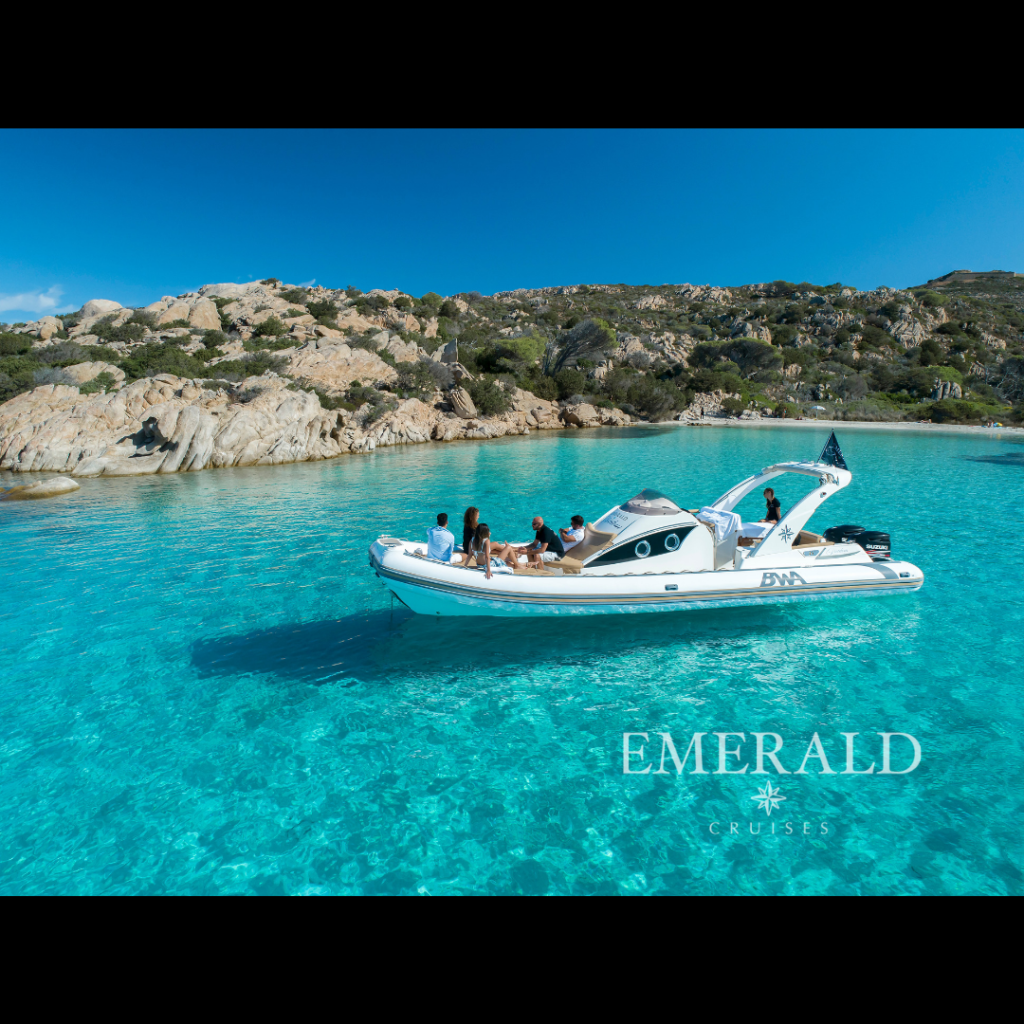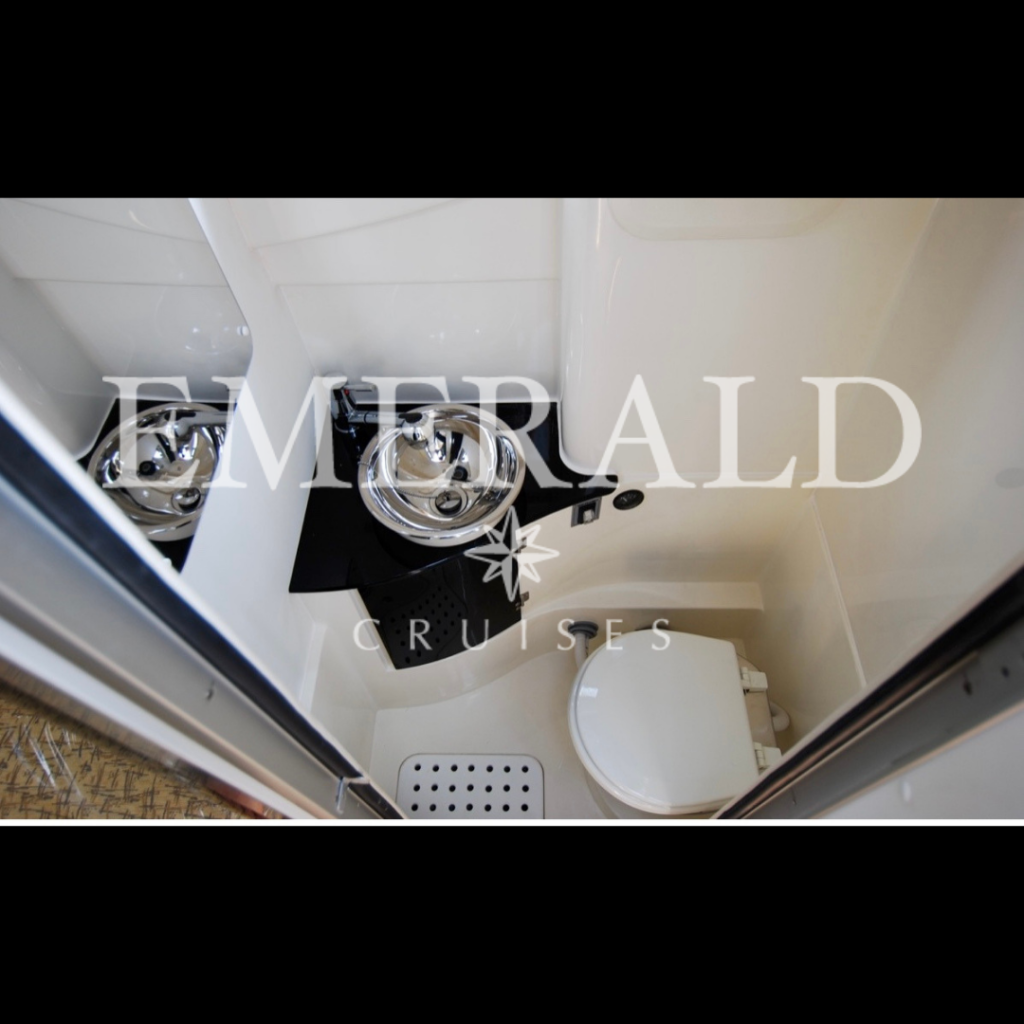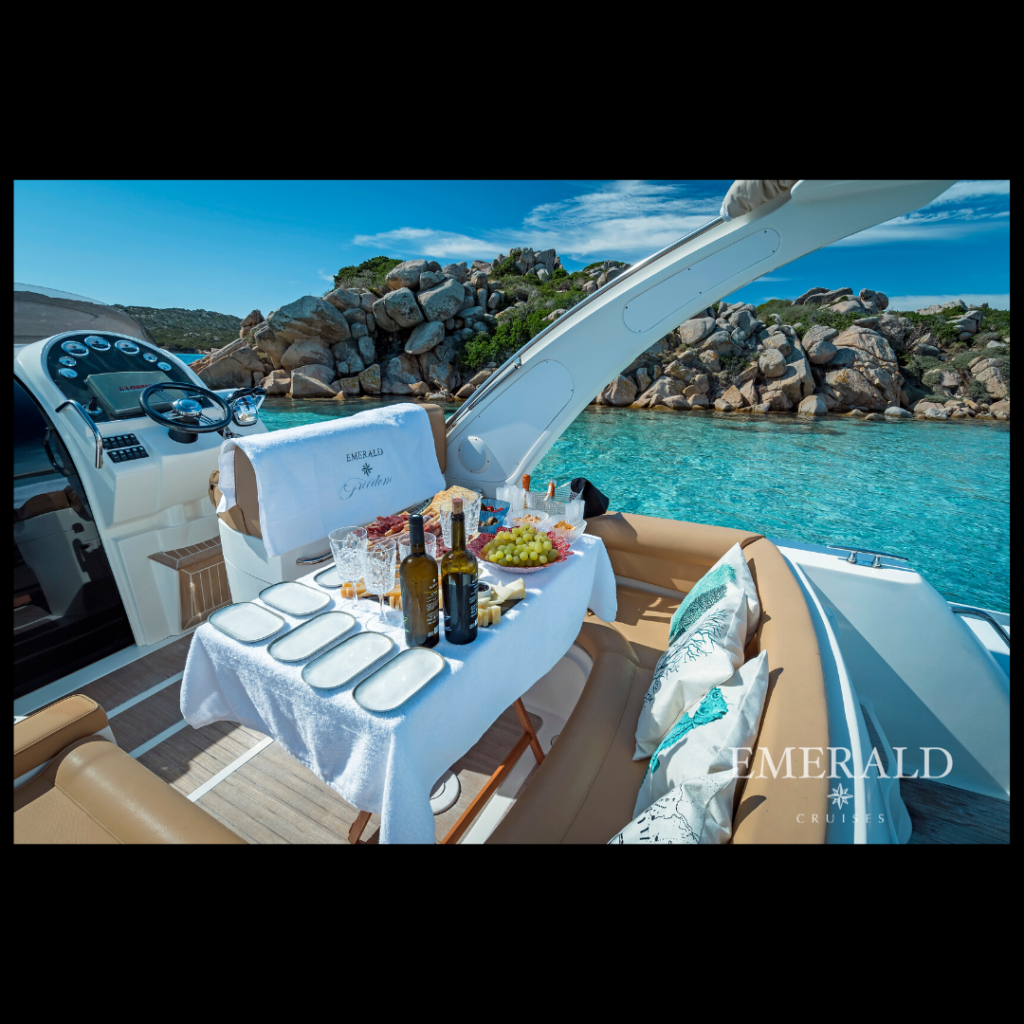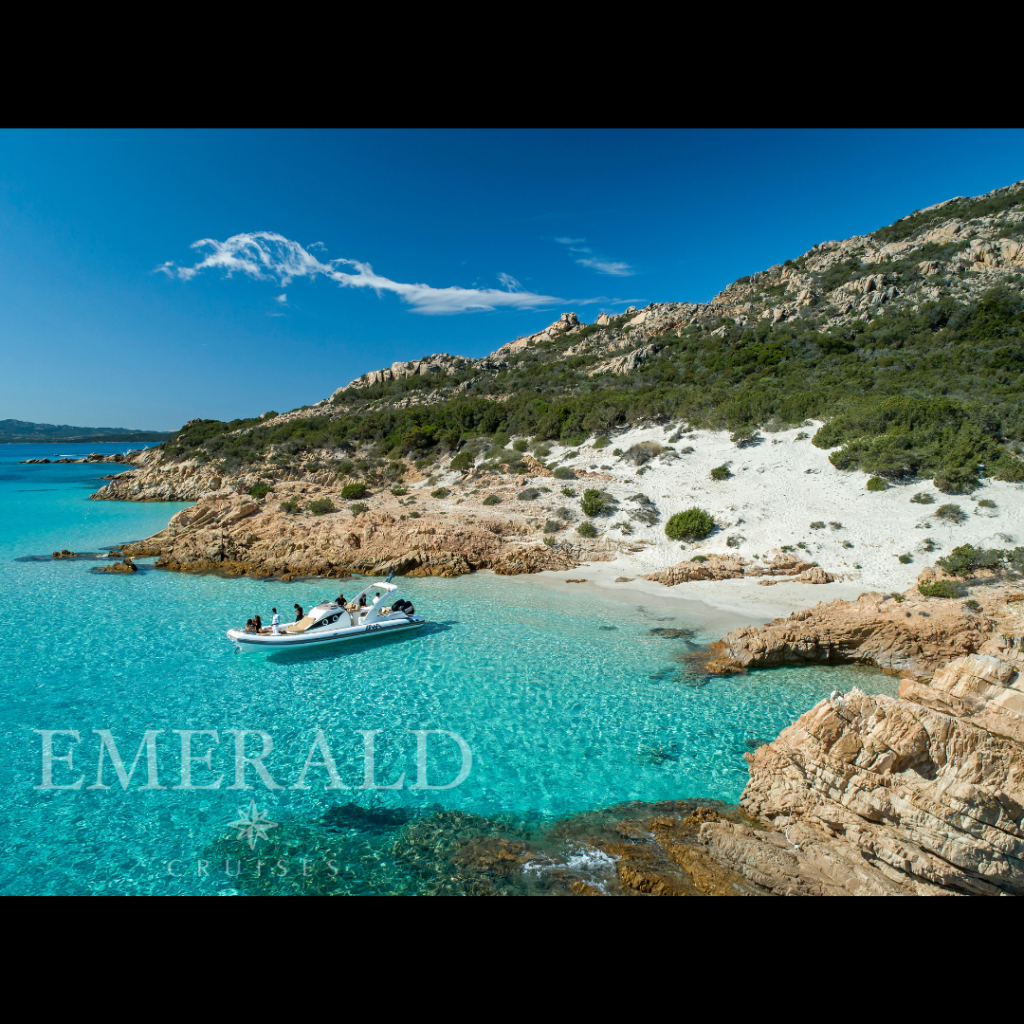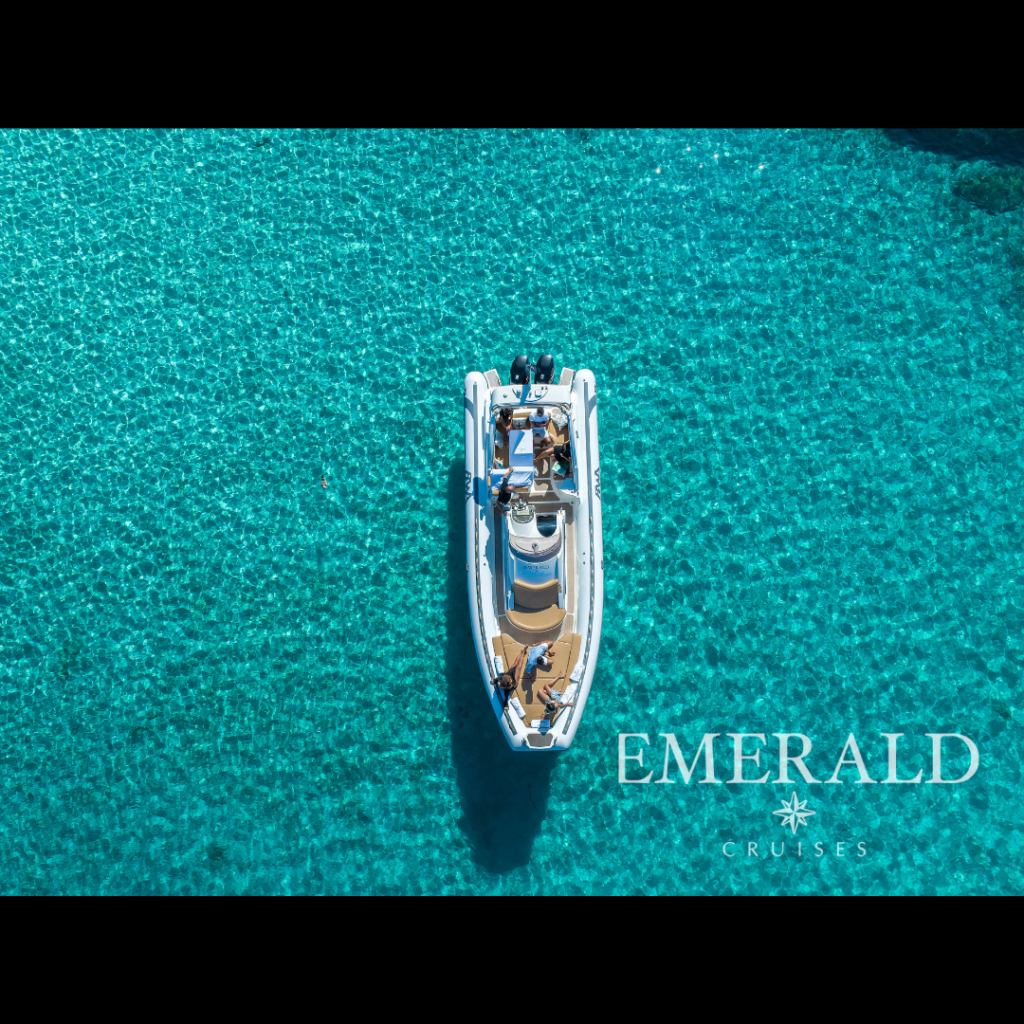 Aboard "Freedom" you will live a breathtaking experience between islands, enchanted beaches and fun.
Emerald Cruises organizes private guided boat tour characterized by hight security standards.
At the same time offers everything that an excursion on Palau large ferry you can not have.
We talk about personalized services and itineraries; custom time available; food and beverages preferances (adaptable options dedicated to vegan or gluten allergic people are available).
About the possibility to plan special parties on board at any time, but above all, the chance to visit the most beautiful beaches of North Sardinia in absolute privacy, far from crowds, in an intimate, magic and unique atmosphere.
The crew of the Emerald Cruises Freedom will always be at your service, with discretion, competence and great passion for their work.
"Freedom" can host up to 12 people with skipper. It is therefore suitable for families, honeymoon or non-honeymoon couples, groups of friends; aperitifs at sunset; gourmet experiences with typical sardinian products or international products, gluten free and vegan products; parties theme and team building and other events.
Flexibility & fun: Emerald Cruises itineraries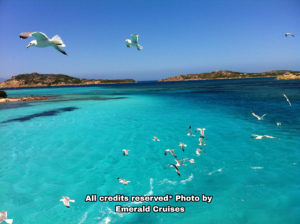 Swimming in natural pools, discover the magnificient sardinian underwater, stop where you want for the best tanning of your life in the most hidden and exclusive coves of La Maddalena islands and Costa Smeralda. What more you could ask for?
La Maddalena private guided boat tour with "Freedom" departs from the main ports of northern Sardinia and Costa Smeralda, as well as from the piers of suitable structures with prior authorization. As we said the intinerary can be completly personalized, at will, with the help of Emerald Cruises Staff.
Being a private excursion, the best starting point is Palau, because Palau's harbour is very close to La Maddalena island and islands. Of course, under request, "Freedom" can starts his tour also from La Maddalena harbour or from Costa Smeralda; Porto Cervo; Cannigione and Poltu Quatu (to discover the area follow Arzachena Turismo)
Here below you find the most beautiful itineries suggested by captain Daniele. As you can see, there are a lot of places to visit, and is hard to stop in all of them in just half a day or one day.
That's way Daniele suggestions are so important to build a very personalized itinerary, that will include tanning break, snorkeling, tasting moments and of course, a suggestive aperitif at sunset with music on the boat!
ITINERARIES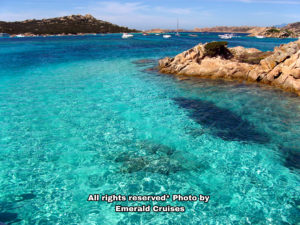 From Cala Garibaldi to Cala Napoletana you will discover coves and natural pools with shallow waters, unique in the world. The most famous beach in Caprera is Tahiti or Cala Coticcio, that takes her name from the incredible shallow and transparent waters, similar to Carribean. In Caprera you will also have the chance to discover Cala Caprarese, Cala Serena and Cala Brigantina. With "Freedom" you will live all this dreaming places in a complete privacy, far from caos;
What's better than shopping in the historic centre of La Maddalena Island? Here you can spend free time having a walk, eating something (we suggest to try the local specialities offered by our partner "Magreta" Restaurant) or just having a coffee or an ice cream break. Then, you can choose to go back on "Freedom" board to visit the wonderful Cala Lunga; Bassa Trinità and Cardellino beaches;
From Cala Corsara to Cala Bonifazzinca is a unique emotion with cristal clean waters. Couple of lovers or people on honeymoon can't miss Cala dell'Amore or Cala Conneri ("amore" in italian means "love"). Spargi offers a lot of other little paradises. The most beauiful are Connari and Cala Soraya beaches;
Who has never heard about Budelli famous pink beach? With "Freedom" you have the chance to visit the spectacular Rosa beach or spiaggia Rosa; to stop to Porto della Madonna pools and Isolotti Paduleddi pools. All these places are characterized by shallow, clear, torquoise waters;
Trip to discover the wild side of La Maddalena Archipelago crossing The Catene, with stop for a dip in the wonderful Cala Lunga;
Santo Stefano island beaches are characterized by golden sand and scented marquis. Here you will visit Baia del Pesce, behind Isolotto Roma, to dive into the past. On Isolotto Roma in fact stands a commemorative stele dedicated to the fallen in the Second World War;
As the other beaches of La Maddalena Archipelago, Santa Maria beach in Santa Maria Island is wonderful. Often crowded, a stop here is reccomanded only on quiet times, following Emerald Cruises Team suggestions.
Emerald Cruises departures and prices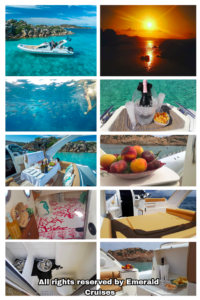 • Departures from Palau; La Maddalena; Costa Smeralda (Porto Cervo; Cannigione; Poltu Quatu)
• Deluxe Boat Tour starts from 500 € p. group (max. 12 people) with delicious snaks and a bottle of sardinian sparkling white wine included in the price. A 10% discount is applied for hald a day tours;
• Diamond Boat Tour starts from 650 € p. group (max. 12 people) with tasting of traditional products and a bottle of sardinian white wine ("Vermentino"DOP) or red whine ("Cannonau" DOP" included in the price. A 10% discount is applied for hald a day tours;
* Total price depends on the desired itinerary; on excursion time and on additional or special services requested such as personalized food or beverages (gluten free or vegan food; champagne; fresh fish etc etc…). In total transparency, consumption can be viewed at any time thanks to the new on-board gauging system thereby favoring a better organization of the cruise.
Emerald Cruises Contacts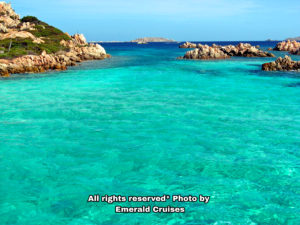 Enjoy Emerald Cruises at http://www.emeraldcruises.it
Emerald Cruises is also on Facebook https://www.facebook.com/EmeraldCruisesFreedom/
and Instagram https://www.instagram.com/emeraldcruisesfreedom/
You can contact Emerald Cruises directly by mobile phone, also using Whatsapp
+39 328.644 21 95
Thanks for reading Sardinia Travel Tips & Guide!
Use this
GIFT CARD

to obtain a -10% with Emerald Cruises as reader od Sardinia Travel Tips & Guide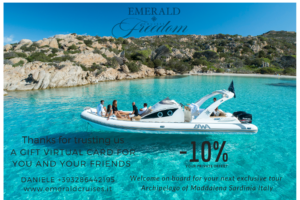 READ ALSO Northern Sardinia Best Coast Itineries