B&B near Poetto beach in Cagliari, Dimore del Sole: more than a Hotel
If you are looking for a b&b near Poetto beach, in Cagliari, you're in the right place!
In this article i will tell you about my experience at Dimore del Sole bed&breakfast, close to Poetto beach, to Gulf of Angels attractions and to Cagliari historic centre.
This accomodation located in Viale Poetto boasts a wonderful strategic position and great comfort, comparable to the best hotels in Poetto area.
Here's my review!
Living a dream at Dimore del Sole, B&B near Poetto Beach in Cagliari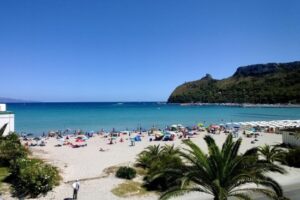 I always visit Cagliari for job reasons and i always choose a b&b near Poetto beach or in the heart of the city. The most of the time i prefer b&b near Poetto beach for a lot of reasons.
The most famous beach of Cagliari is so fascinating that i can't be without having a walk on the sand, breath sea breeze, admire the majestic rock Roccia del Diavolo and eat delicious seafood at the little bistrot at the seaside.
So also this time, for a pleasure working-holiday, in october 2020 i looked for the best accomodation in Poetto area.
I found Le Dimore del Sole, a so nice b&b just a few steps from the beach and so comfortable that i swear, i slept better in this occasion than in a lot of starred Cagliari hotels.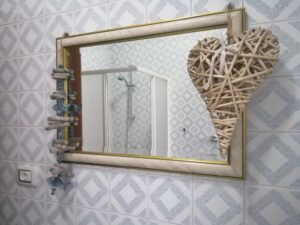 I had a room with a pretty baldaquine bed, private bathroom and all comforts such us tv; little fridge and electic kettle to prepare tea.
I have been surprised by the presence of 2 pillows to sleep, because if is true that you find this service in the most of 4 and 5 stars hotel, is not obvious to find them in a bed&breakfast.
To me, that i am a travel journalist and i need the most of comforts, since i work hours at hours at my computer, was simply the TOP!
Bed&breakfast close to Poetto Beach, near the heart of Cagliari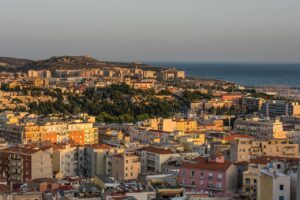 If you choose Le Dimore del Sole you really don't need a car to visit Cagliari. As i said, the thing i appreciated the most of this accomodation is the position.
From Viale Poetto, where Le Dimore del Sole is, in fact, you can reach Poetto beach by feet of by bus, since the bus stop is just close to the bed&breakfast. At the same time, you will be in the heart of Cagliari city centre, always by bus, in less than 15 minutes.
This b&b is so near to Poetto Beach that you can you can breathe the scent of the sea, expecially in the early morning. I use to wake up early at to go running: was a pleasure to me to cross the door to be at the beach in so little time. We have to consider also that Poetto is 9 km long, an ideal location for outdoor sports.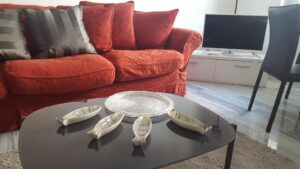 Cagliari city is simply wonderful. I love to discover the little streets of his Castle, the craft shops and the rare vintage clothing stores.
Of course is also a cultural town, that's way you can't miss the National Archaeological Museum of Cagliari; the National Gallery; Cagliari Art Gallery and Basilica and Sanctuary of N.S. di Bonaria.
So back to the fact that if you sleep at Le Dimore del Sole you dont' need a car to visit Cagliari, to rent a car is always a good choise to explore surroundings. If you rented a car (or you're going to rent it one) don't worry. This b&b has parking included, under request.
---
*** Read my Guide and tips about rental cars in Sardinia***
---
Hotels in Cagliari or b&b? That's way i choosed Le Dimore del Sole
What makes the difference between hotels and bed&brakfast, in Cagliari as in other cities, is the kind of hospitality. Personally i prefer b&b, but only if the owner is really kind and available when you need. Luckly this is the case!
We met Patrick, Le Dimore del Sole owner, at our arrival, and we had a great welcome with all the infos we needed about the city (what to visit; where to eat the best local food etc etc…).
I also what to underline that dogs are welcomed, so that we could spent our beautiful holiday at the bed&breakfast with our sweet little dog Frida.
I loved our room with baldaquin bed, but Le Dimore del Sole has other 2 very nice rooms and 2 flats, completely different from each other, all well decoreted and greatly comfortable, full of little details that makes the difference.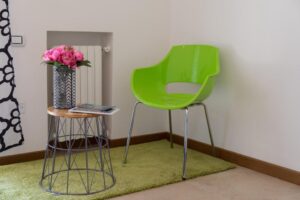 Very good also the breakfast, with a big choise between coffee, cappuccino, tea, biscuits, cereals, jams, croissants and other sweeties.
Surely this is my favourite b&b near Poetto beach in Cagliari: i will come back!