Best 5 stars hotel in Alghero, Sardinia: Villa Las Tronas!
Looking for the best 5 stars hotel in Alghero, Sardinia, after comparing hotel images and opinions of other guests, i really have had no doubt to book my holiday at Villa Las Tronas.
I stayed in this luxury hotel in Alghero twice: the first time was last year, just for one night. Then, for my birtday, i decided to spent other 3 nights in what i believe is the most beautiful exclusive hotel of Alghero coast. Here's my experience!
Best 5 stars hotel in Alghero, Sardinia …discovering Villa Las Tronas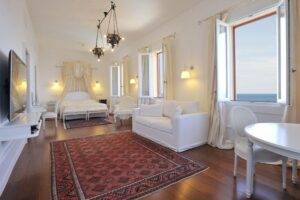 To sleep at Villa Las Tronas is like living a dream. That's way i decided to come back this year for my holiday in what i really believe is the best 5 stars hotel in Alghero, Sardinia. From a warm welcome of all staff to delicious comfortable rooms, to end wth a wonderful Spa, this this for sure my favourite luxury hotel in Alghero.
At Villa Las Tronas luxury means hight standards of professional hospitaly; attention to details; to know how emphatize with the guests, without never make them loose the sensation to be on holiday in a great 5 stars hotel.
The atmosphere is that one of an historic house, what Villa Las Tronas really is, in which guests are treated like kings and princesses.
Staying at Villa Las Tronas you will breathe a fascinating history narreted by original antique fornitures; precious carpets; statues, paintings and other artwork that makes this hotel an exclusive accomodation and an excellent representative of glimpses of italian and sardinia history: a concentrate of masterpieces and wonders of craftmanship.
Not surprisingly this hotel is considered a real simbol of Alghero city.
---
***** To discover all Alghero beauties, read Alghero Italy Sardinia: All My Travel Tips ****
---
More than a luxury hotel in Alghero …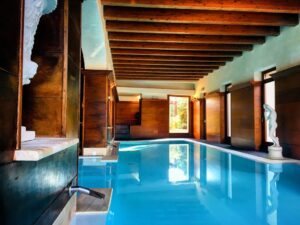 Charme and authenticity. These are the words used in Villa Las Tronas website to describe the hotel. They resume at the best the soul of this 5 stars hotel with seaview, or better, at the seaside, close to the heart of historic centre of Alghero.
Is located on a private promontory from whitch you can admire Capo Caccia and Coral Coast in its entirety. Until 1940 was the exclusive residence of a royal family, that's way conserves all the charme af a noble mansion.
Villa Las Tronas is surrounded by the sea and boasts the presence of a splendid park, where you can relax in all seasons.
Morover during your staying you can enjoy your time in 2 swimmigpools facing the sea. In autumn and winter the alternative is the luxury Spa Wellness Centre with a heated sea water swimming pool; Turkish bath; sauna and gym. A massage service is also available, ideal to relax body and quiet the mind.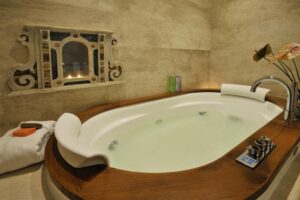 I believe is the best 5 stars hotel in Alghero, Sardinia, also because offers Spa well-being packages you cannot miss! Here's some example:
SPA JOURNEY RELAX

(90° / includes Tranquillity Welcome; Eye Supreme eye mask; Tranquillity Ritual face&body; Goodbye Ritual; a phial of Tranquillity Oil)

SPA JOURNEY WELL-BEING

(90°/ includes Tranquillity Welcome; Scrub -fruity pelling; Hot-stone massage; Goodbye ritual; a phial of Tranquillity Cream)

SPA JOURNEY ANTI-OXIDIZING

(120°/ Aromasoul welcome; Eye supreme; Recover touch; Aromasoul 4 worlds (with application of d-age cream); A phial of Tranquillity Cream).
My experience in Alghero at the exclusive hotel Las Tronas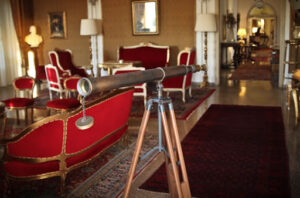 As i said i already stayed at Villa Las Tronas twice. The first one year ago, for reasons connected with my work of travel journalist. The second this october 2020, for my birthday. I came with my boydfriend and with my sweet little dog Frida, that was greatly welcomed to all staff.
I apprecietad my comfortable room and courtesy set product of Tranquillity line; i loved listening the sweet sound of waves, the only music you hear before you fall asleep and when you wake up; i enjoyed the lounge atmosphere of the historic salon, while i was working at my computer drinking a coffee or a good glass of red local wine.
Breakfast is great, with a big choise beetween savory and sweeties. Also if i am italian, i love to eat eggs, toast and orange juice at early morning, and i have to say that at Villa Las Tronas they were excellent, as well as homemade cakes and other delicacies.
Well, i definitely come back again!